Play it Again Sameer: At Festival de Casablanca
With festival officials estimating 65,000 cramming into Scène Corniche El Hank to witness hip-hop artist 50 Cent's first Moroccan visit, I was not particularly shocked to later hear that that number was bumped to 100,000. 50 himself tweeted 200,000. I suppose from the vantage point of the stage, with the endless swarm of raised fists and 'I Love 50 Cent' posters, 65k could be two million without much thought. With a reported 70% of Casablancans being under the age of 30, American rappers easily usurp religious icons in a country that is commendably evolving socially, politically and musically. America has much to learn from the progressive kingship and open-minded populace of this nation.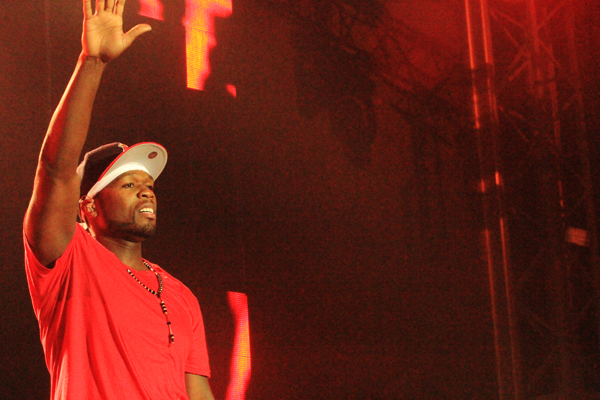 I was able to snag a few photos and video of 50 before being whisked away to Scène Rachidi to watch an upstart Moroccan vocalist, Oum, blend beautiful strains of jazz, reggae, Moroccan poetics and R&B into a truly unique music before her own tens of thousands. Combine that with Moroccan rock band Hoba Hoba Spirit throwing down at Scène Sidi Bernoussi, and you'd have guessed that the entirety of Morocco ventured outdoors for these free concerts. One of some 50 annual festivals occurring in this pioneering Islamic country, the diversity of Festival de Casablanca serves as a beacon for the future of global citizenry.
Music has brought me to Morocco three times in the past three years, twice in the past month alone. Festivals in Fes and Rabat were outstanding, but neither stood up to the raw energy and forward-thinking mentality of this city which has been long tattooed in the American imagination thanks to the classic anti-German Bogart/Bergman flick. Craftily manipulated in a Burbank studio (and at Van Nuys airport) into World War II-torn African struggling for identity between French and German occupation, the actual identity of Moroccans figured very little into the movie. Like many other Warner Brothers films, Casablanca had a definitive political agenda — one that did not involve Morocco having its own voice.
Yet Morocco has plenty to say. The country that predominantly avoided the Arab Spring thanks to King Mohammed VI's reforms — a recent initiative passed by 98.5% of voters officially recognizes the Berber language and promotes gender equality — is setting an example for the Arab and American worlds to learn from. While some feel that the government is moving too slowly, that the government moves in the right direction at all is a hopeful sign. Progress is palpable on the streets. The economy is thriving; Mohammed's focus on infrastructure is apparent throughout cosmopolitan regions; and the promotion of art and culture, both Moroccan and international, is one of the most important steps that any country is taking in forging a global population ready to handle the tasks of this century.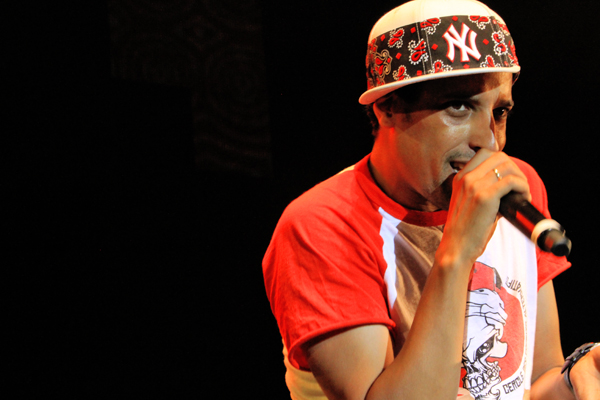 We arrived in Casablanca on Thursday morning, having missed the first evening of festivities. A long delay on the tarmac due to a massive rainstorm and something that smelled like fire, which may have helped to ignite a near fistfight between a Moroccan and Senegalese woman directly above my head, kept us drowsy until a few shots of Arabic espresso juiced my veins. I was bummed to have missed Brazil's Carlinhos Brown, though excited to check out California reggae band Groundation presenting a Bob Marley tribute concert that night. Moroccan R&B/hip-hop-ish singer Barry kicked off Thursday night with an impressive though postured performance. I had no idea that Yankees hats were a required uniform for any young Moroccan, and Barry played that role to a tee. His crossed arms and fake limp were unnecessary accoutrements awkwardly adorning an otherwise excellent show. Dude can sing, and well, his music playful and solid. Hearing flow in Arabic is immensely interesting, and while he may be rapping about his pet cat doing cartwheels or, hopefully, something intriguingly political and social, he's got the musicality down.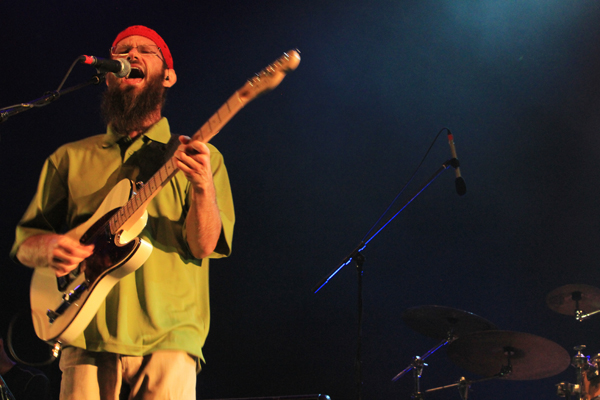 Groundation is an epic live band. Being backstage is always a trip, as you see the deities on stage as the humans they really are. Harrison Stafford, the group's confident and forthright lead singer, nodded hello before I even introduced myself, and we chatted easily for a few minutes before I sat down for an actual interview. On record, he sounds like a 60-year-old Jamaican man who's been hitting the chalice since age three. In person his patois is subdued; you can immediately landmark his accent as Rastafied Northern Californian. There are few bands that I would imagine could seriously pull off an entire hour of Bob Marley songs (this show was part of the group's annual tribute series), yet they had just enough Nesta and just enough Groundation to make it unique and sonically incredible. The only tragedy of the evening is that Afrocubism was simultaneously playing across town, and given that Casablanca traffic is somewhat like Soho on a Saturday night, though with absolutely no regard for things like traffic lights or pedestrians, I had to choose my venues smartly. By the time 1:15 am rolled around, I was not upset by my decision.
It may have taken a savvy business mind 62 years to think of it, yet we had no qualms with eating at Rick's Café on Friday afternoon. Having spent an entire morning shooting video and photos in the souk, as well as being handily accosted by a group of Berber men trying to sell carpets — if this were my first time, I might have been taken in by their undeniable charms — Paul and I met up with the crew at Rick's, which opened up in 2004 and plays Casablanca on loop in the upstairs bar. It was here that I got to sit with the aforementioned Oum for a chat (the subject of another article). After spending a few challenging minutes explaining to the waiter that no chicken is not vegetarian, no fish is not vegetarian, no not even shrimp, I had a wonderful plate of vegetables and pasta that was really an assortment of whatever non-meat offerings they already had on the menu.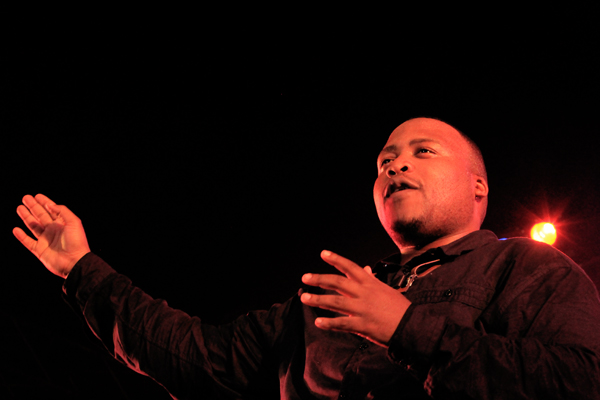 That night the venue choice was easy: Scène Rachidi. I've been a fan of the South African hip-hop band, Tumi and the Volume, for years. I had not planned an interview ahead of time. Walking into the backstage area, the press liaison asked if we wanted to talk to Tumi. My compatriot at the moment, Jet's Miki Turner, said yes, and I was thankful that my iPhone is also a voice recorder. Tumi has a sharp intellectual slant tempered by a commendable ability to write outstanding hooks; during his show, he had no problem leading thousands of Moroccan into call-and-response vocal parts. Speaking of hooks, I was the first time I heard 'Floor' and 'Bus Stop Confessions' from Tumi and the Volume. The band's latest, Pick a Dream, forgoes much of the poetry for songwriting, which is a marker of the band's natural progression. Turning around in the photo pit to watch hundreds of teens pressed against the gate yelling 'I can't decide if it's the money,' while Tumi replied 'that got the people out of the control,' is an image that will not be quickly forgotten.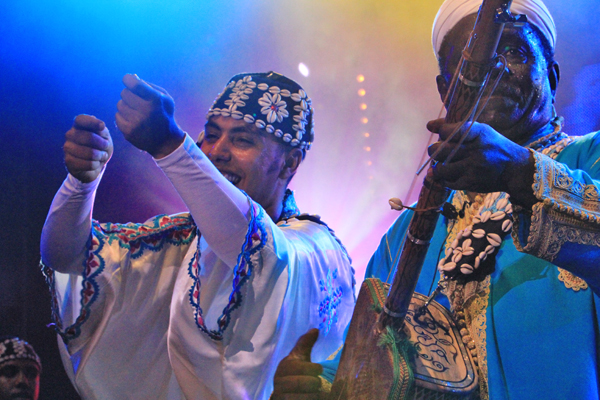 Moroccan concert security is appreciatively lax. Guards do their job with a smile, firm and not obnoxious, traits rare at American concerts. I've been manhandled in the photo area simply for being a photographer. In Morocco, guards are too busy singing along to pay too much attention to what I'm doing. So when the enormously popular Gnawa musician Maâlem Mahmoud Guinea and his outfit of young acolytes were leaving their tent, I decided to trail them through the side-of-stage corridor, up the ramp and onto the stage. Instead of cutting me off, the head security guard showed me a good spot to stand. This is something that would have gotten me a fist and/or elbow and an ejection from most any American venue. Maâlem is what happens when you give Jimmy Page a sintir and hand qaraqib to six John Bonhams. Gnawa music is the trance-inducing folk sound of Morocco, rightfully considered one of the harbingers of American blues. When two-dozen military guards poured into the crowd as spectators alongside the thousands of youthful fans, I knew this music truly cuts across any boundaries in Morocco.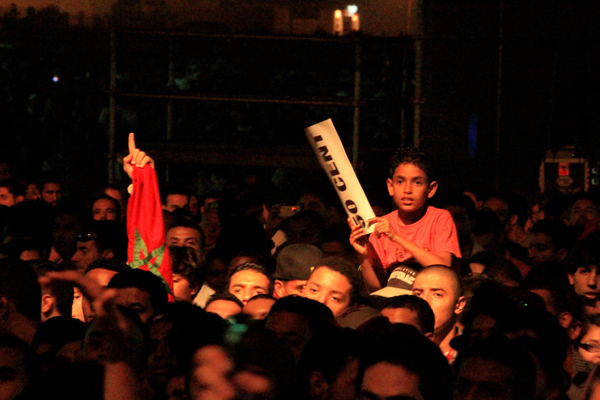 Saturday night was going to be a challenge. While I had to pass through two extra layers of security to get to 50's backstage area, I still never once received an evil glare. Earlier that day with a member of 50's management was another story, as my questioning of why journalists were only 'allowed' to ask the emcee certain questions was met with immediate confrontation, until he found out I was interviewing him for an edition of Rolling Stone. This did not bode badly for 50, whom I found honest and eloquent. Sure, he hyped himself ('I'm one of the few artists who can afford to live that lifestyle [portrayed in hip-hop videos]'), but I suppose if you sell 12 million copies of your debut, you can afford to be. I only was able to catch three of his live songs before heading to once again to Scène Rachidi to check out Oum. In true American rap fashion, he went on a half-hour late (his crew was setting up DJ equipment 15 minutes after start time). As for those three songs, however, I knew why 60 or 100 or 200 thousand people showed up. Hip-hop writer Shaheem Reid, who was in 50's van, later told me that some 5,000 kids would not let the entourage leave. One teen threw himself onto the van, screaming '50 Cent is my life!' According to a member of 50's crew on the flight back to New York, it was the second craziest show of his career. Angola still held the top spot.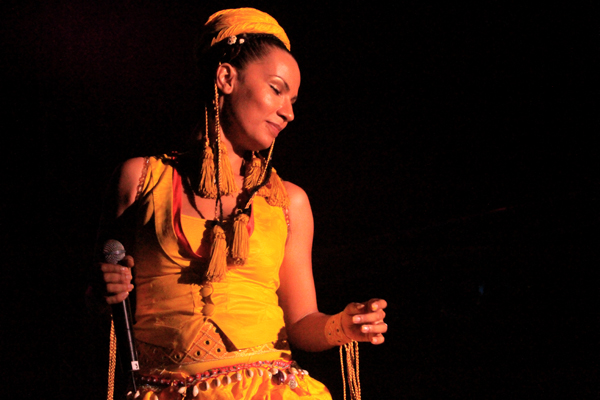 It was fitting to conclude my journey to Casablanca watching Oum present songs from her upcoming album, Sweerty, which includes an immigration-themed song with Brooklyn-based Ghana rapper Blitz the Ambassador that is currently blowing up Moroccan radio. Oum's self-produced debut, Lik'Oum, has garnered her major accolades as an Arabic visionary (and over 67,000 Facebook fans). You can hear her influences in her music, from Billie Holiday and Erykah Badu to Moroccan great Malouma Mint El Maidah (whose album, Nour, has spent much time in my iPod) and the late South African legend, Miriam Makeba. Even after being nearly assaulted for my press badge in the parking lot behind 50's stage, we were able to catch the last four songs of Oum's performance. The stark contrast between his and her crowd was instantly apparent. It was the difference between chewing a bundle of khat and indulging in the silky strains of strong Moroccan hashish. The latter is a fitting metaphor for the jazz-inflected strains of Oum's music, the singer that night brightly adorned in a yellow Badu headwrap and dress, a splash of orange tastefully circling the collar. Her voice draws you in, her ease and comfort on stage makes it hard to look away. I became an instant fan.
In this mellow mood I reflected on the whirlwind three days in Casablanca. After the set a local journalist packed a heady mix of hash and tobacco, a European habit that I never quite understood. The rough leaf scratched the back of my untrained throat — sometimes you take the sweet with a tinge of sour. This truism applies to people as well as nations. Coming from a country experiencing some of the bitterest social and political posturing in American history, I lavished in the sweet of a Morocco that is comfortable with correcting stupid mistakes, eerily similar to problems that our leaders can't stop creating. These issues have to do with listening to the people, opening up to the world outside while solidifying internal strengths. No land ever was or will be an Eden, but Morocco is doing a damn fine job at making its case.